COUNTERACTING INSURANCE FRAUD
"One clue is a clue,
two clues are a coincidence, but three clues provide proof."
Hercule Poirot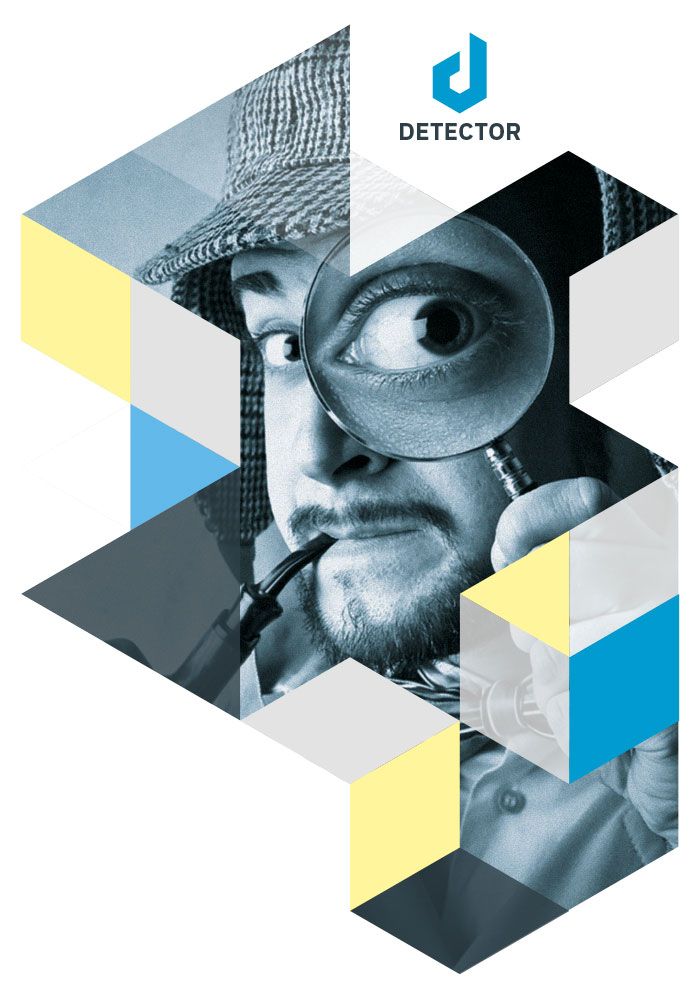 Enhance Investigation
Following a scientific approach, Detector singles out risky claims and spots connections which would have passed unnoticed using manual checks.
Thanks to the ergonomic design of the user interface, all details are easily accessible and all data can be seen at a glance.
Detector has been designed by business experts and represents a combination of functional experience and innovation, perfected over the past six years.
The reduction in false positives saves time and resources whilst accelerating payment of legitimate claims. The improvement of investigation efficiency facilitates compliance and helps contain operational risk.
A deeper understanding of the portfolio is achieved by shedding light on hidden and recurring relations between the parties involved.
Our customers have enjoyed 400% improvement in the number of cases successfully investigated and a 300% improvement in fraud detection efficiency.
180+
Business rules implemented
7 Of top 15
Major insurance companies use Detector
25
Insurance companies use Detector
>25.000
Claims analysed on a daily basis
8.500.000
Claims investigated so far
DETECTOR SYSTEM
Detector offers a comprehensive solution through the adoption of leading edge technologies. The system comprises 6 modules:
Claims
End-to-end claims fraud detection and management
Underwriting
Collection of risk information on prospects
Docs
Detection of forgery of documents and photos
Big Data
Investigation of patterns in massive data feeds
Voice
Voice detection analysis system in partnership with Digilog UK Ltd.
A pioneering software application company for the insurance industry and creator of the cutting-edge anti-fraud platform Detector. Combining the benefits of artificial intelligence and human insight, Detector was created by claims experts with 35 years of experience and is used by major European insurance companies.
Kube Partners is one of the first 100 Solution Partners of Guidewire Software Inc., and it has been included in the Top ten best Insurtech companies in Europe for the year 2020. Kube Partners operates in the UK, Ireland, Poland, Spain and DACH Region.